Set Your Own Wilderness Pace
All of our wonderful activities are based on your interest, the tides, and the weather. Your days can be quiet and relaxing or filled with action-packed adventures. Activities can be customized to work for all ages and abilities – we tailor your vacation to your needs and desires. Personalized guide service is provided daily between 9am and 4:30pm, with partial day or full day activities available.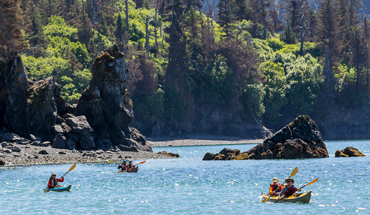 Sea Kayak
Even beginners can sea kayak with our specially trained guides in our top-of-the-line, safe, stable sea kayaks. Cruise the quiet bays and coves of our pristine estuary and visit the nearby sea bird rookery.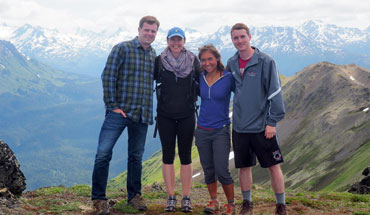 Hiking
Our hiking trails range from an easy walking trail through the forest that includes a beach walk, to a challenging all day alpine hike. Your naturalist guide can take you on a hike to the Grewingk Glacier – a guest favorite. Follow ancient game trails to overlooks where you may see black bear, sea birds, eagles, sea otters and seals. The marine life, birds and wildlife are abundant.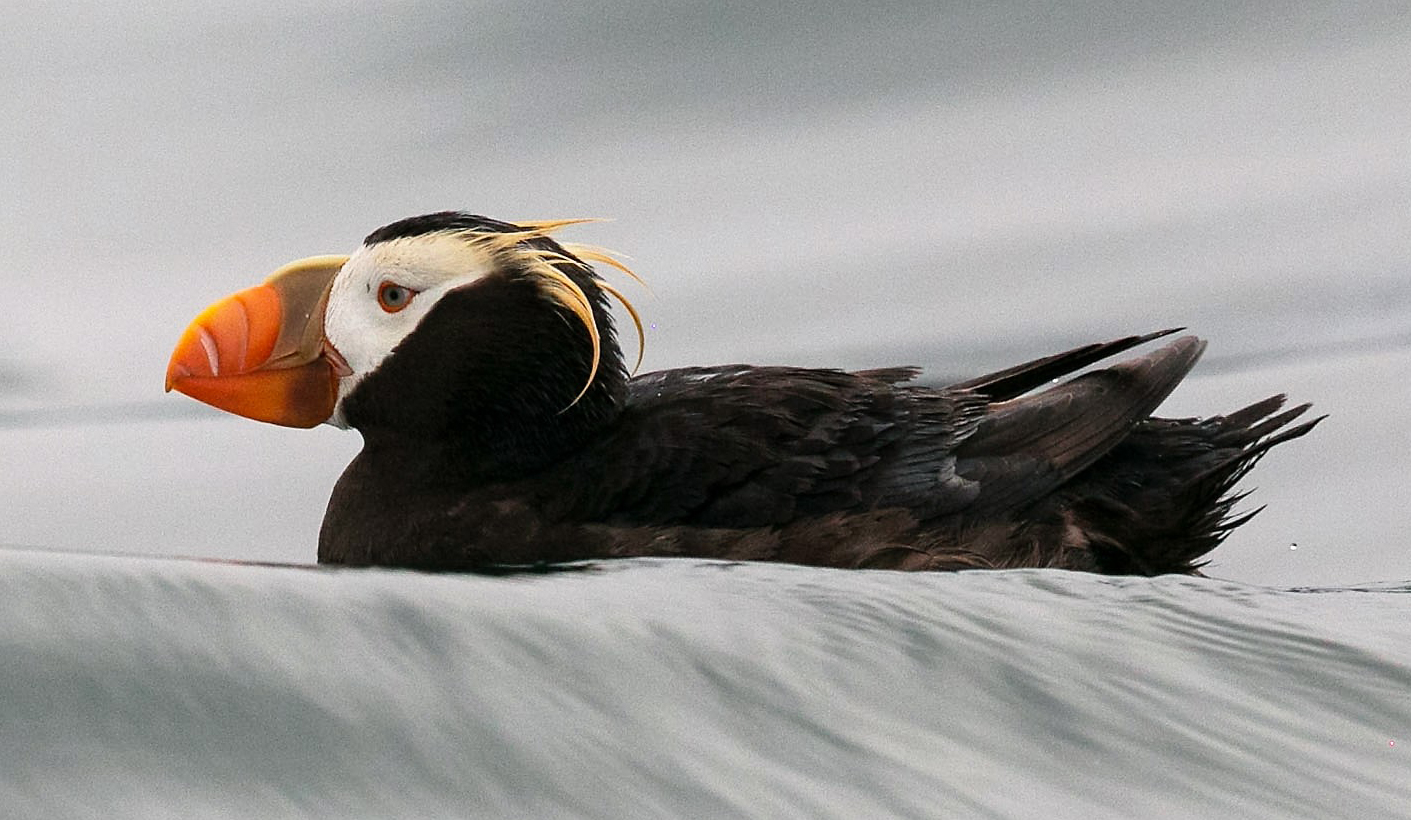 Birding
Birds abound around the Lodge! From bald eagles soaring overhead, to loons calls echoing across the water, you will find dozens of bird species including black oystercatchers, puffins, Steller's jays, harlequin ducks, woodpeckers, and so many more.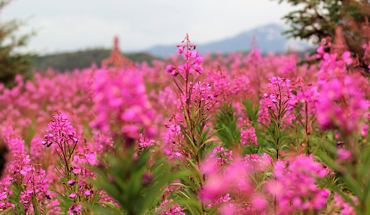 Wildflowers
Enjoy flowers on your hike in the woods and to the glacier, along the cliffs, meadows and beaches. Your naturalist guide can identify edible plants and flowers. Photographic opportunities abound!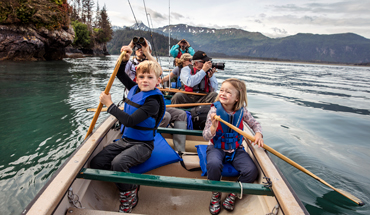 Canoeing
Take an adventure in our big canoe. The canoe works for an entire family! It is safe and comfortable for all ages and abilities. Float with the tide while your guide navigates. Watch for eagles, sea otters, black bears and other wildlife. Stop at a remote beach for a campfire and picnic lunch.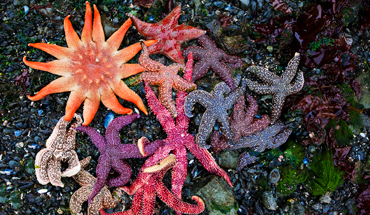 Tide Pooling
If there are low tides during your stay, your naturalist guide can lead you to explore tide pools teeming with abundant marine life including octopuses, sea urchins, and colorful sea stars. It is a wonderous world!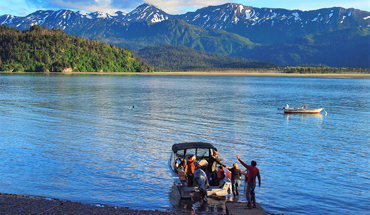 Boat Excursions
Full or part day excursions by motorized boat with your Lodge guide can be taken to view teeming sea bird rookeries, sea otter colonies and seal haul-outs. Bald eagles soar overhead while we watch for orca and humpback whales.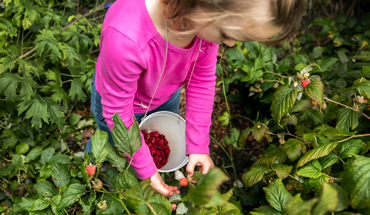 Berry Picking
In season, mid to late summer, pick wild blueberries, raspberries, red and black currants, salmonberries and other varieties. Hike with your guide to remote berry patches, or pick right around the Lodge.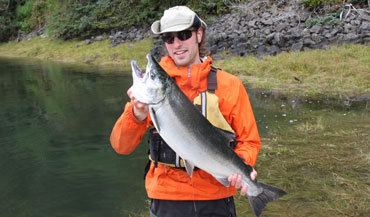 Casual Lodge Fishing
Guided casual beach fishing is offered for Dolly Varden, salmon and flounder. Fishing opportunities depend on the fishing run, tides and the time of summer you visit us. Our amazing Chef can prepare your fresh catch for dinner! READ MORE about fishing.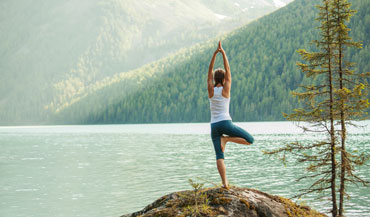 Yoga and Massage
Gentle yoga or stretching may be available two mornings a week. A licensed massage therapist may also be available upon request for an additional fee.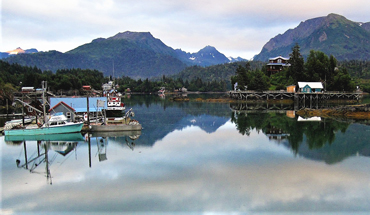 Halibut Cove
Enjoy a boating excursion for an afternoon to Halibut Cove, a small island artists' village where "the streets are paved with water". There is an excellent local artist gallery to visit. You may see eagles, sea birds and marine mammals along the way.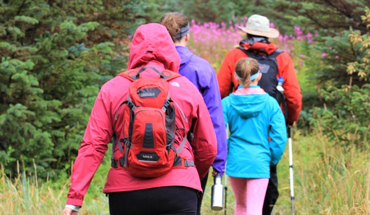 Nature and Interpretive Walks
Your local Alaskan guides can take you to wild berry patches, to photograph wildflowers or to beachcomb along the endless long curving sandbars.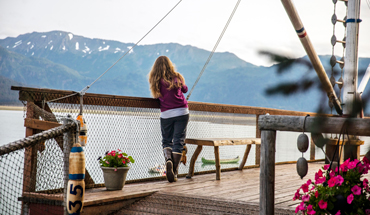 Relax
Curl up with a good book in front of one of our wood stoves or fireplaces, in our large hammock, or on one of the comfortable deck chairs overlooking China Poot Bay. Relax and enjoy the amazing mountain and ocean views while watching sea birds and sealife follow the flow of the tides.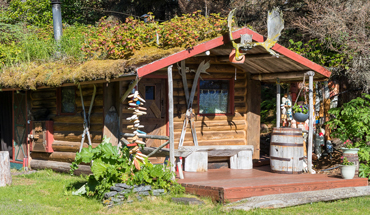 Finnish Sauna
Enjoy our private wood-fired cedar sauna. This charming log bathhouse with a sod roof is the perfect way to unwind and relax after your day's adventure — or anytime!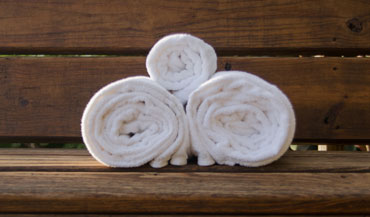 Outdoor Hot Tub
Nestled behind our sod roof Finnish sauna, our private outdoor hot tub is a great way to relax and unwind after your day.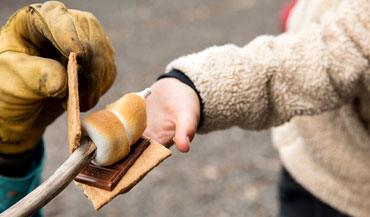 Campfire
Enjoy time outside around a cozy campfire. Your guide can light a fire on the beach to enjoy during your lunchtime adventure. Or after dinner, lounge on the dock taking in the spectacular view.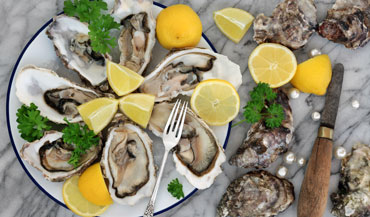 Hors d'oeuvres
Evening hors d'oeuvres are served on the dock overlooking China Poot Bay and are accompanied by fine wines and local beers. We feature fresh, wild Alaskan seafood such as Kachemak Bay oysters, king crab, halibut, salmon, or your fresh catch of the day.
Celebrate Special Occasions
We are experts at customizing special occasions for your group. Whether you are celebrating your anniversary, birthday, honeymoon, or are enjoying a small family reunion, we will make your time with us one you will never forget!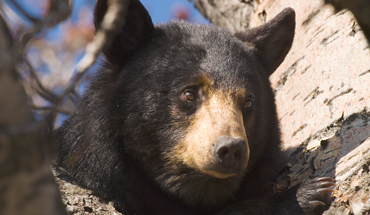 Bear Viewing
Black bears may be seen around the Lodge. Optional brown bear viewing flights are available as a day trip by float plane across Cook Inlet with Emerald Air Service or Beluga Air. This is an additional cost, and best to reserve well in advance of your visit to the Lodge.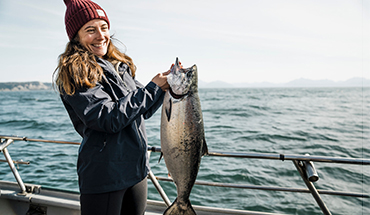 Charter Fishing
Optional private fishing charters are available for wild salmon and halibut through Central Charters. READ MORE about fishing. Charters for the more serious fishermen are an additional cost, and best to reserve well in advance of your visit to the Lodge.
Float Plane
Charter a float plane with your own private bush pilot. Take a scenic flight over the mountains and glaciers, watching for wildlife. With your personal Lodge guide, fly to a remote lake to hike and explore the incredible landscape with Beluga Air or Northwind Aviation. Charters are an additional expense.